​For those wishing to pursue Gourd Art, join the Kawartha Gourders and take Beginner Gourd art to learn the basics of preparing a gourd for art work. Members meet at the Artisans Centre Peterborough to share ideas, equipment, supplies and to work on gourd projects.
Available Classes
To view and sign up for any of our classes, please visit the Artisans Centre Peterborough's site.  We add new courses regularly.
Past Workshops and Classes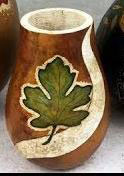 Supply your own gourd, opened and cleaned outside and in. It should be about a centimetre or more thick.
You will learn ways to remove the outermost skin, stipple technique, undercutting, and shaping a simple leaf. You may choose to add more leaves to your gourd.
Students should bring a protective dust mask, protective eye wear (glasses are acceptable), protective gloves and an apron. If you have a Dremel/Rotary carver with a flex shaft, please bring it with any bits that you have. There will be a few carvers available to use.
all materials supplied In this class
You will learn to use both hand and power tools for opening and cleaning gourds.
Basic safety of working with gourds and care of tools will be taught, so you will be able to use these tools on your own. You will sand and paint the inside of your gourd before using Adirondack dyes to give a colourful surface to the outside of your gourd. A glued leather rim will complete your gourd.
Once you have completed this course you will be ready to apply a variety of techniques and express your creativity on a gourd.
This class is a requirement for many other workshops in Gourd Art.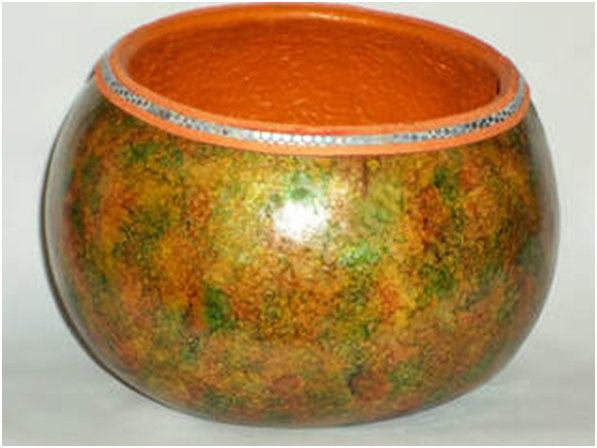 This drum is perfect for putting you in a relaxed mood! When your ocean drum is completed, you will learn to slowly move the drum to make the sound of soft waves lapping on a shore. A suitable gourd bowl will be provided which you will prepare and learn to make the ocean drum. Come with an idea of how you would like to decorate your ocean drum.
The Teacher will provide all materials and supplies for the class.
You will be adding details to a penguin shaped gourd to make your own unique penguin using Quikwood, ApoxieSculpt, and paint.
The Instructor will provide all materials and supplies for the class.
Students will need to bring their imagination and an apron.
Using a hot glue gun, you will create trees and grass, and then finish by colouring your gourd using metallic paints and rubs.
Students should bring: Gourd, opened and cleaned outside and in OR cleaned outside and left unopened. Hot glue gun (must be hot not cool) & a minimum of 12 glue sticks
We will not be putting a rim on the gourd in this workshop but if the gourd is opened it can be finished in a future workshop on rimming/coiling/etc.
Knotless Netting Dream Catcher
Barbara will supply a variety of gourds for members to purchase in advance of the class, so you can prepare your gourd for the class.  You will pre-cut the gourd with a circular hole in the front to make the dream catcher, or use a pre-cut section of a gourd. You should seal the inside of the gourd before the class, as well as put a finish on the outside of the gourd.  The rest we will do in class.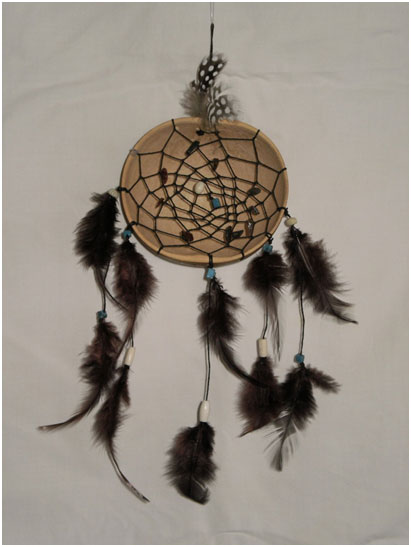 Coiling for the First Time
The instructor will show you the basic technique to coil with one colour.  She will discuss how to get started on adding patterns once you have mastered the basic technique by coiling at least 3 rows on a gourd.  Paper core and wax linen in a variety of colours will be available.
Students will bring a gourd finished both inside and out.
Cost of wax linen thread –    0.25 cents a yard.
.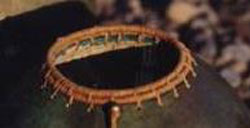 Engraving Doodle Designs on A Black Gourd
The instructor will show you how to make the outside of the gourd black, before carving the lines for your doodle design.  Bring your ideas for patterns.
The Instructor will provide some patterns.  You will be using a Dremel or other power carver in this class.  Please let Dorothy know if you will need a power carver, so she can make sure we have enough carvers for everyone.
Students will need to bring a gourd cleaned inside and out and painted on the inside the colour of your choice.  If you have a power carver please bring it along with your carving bits.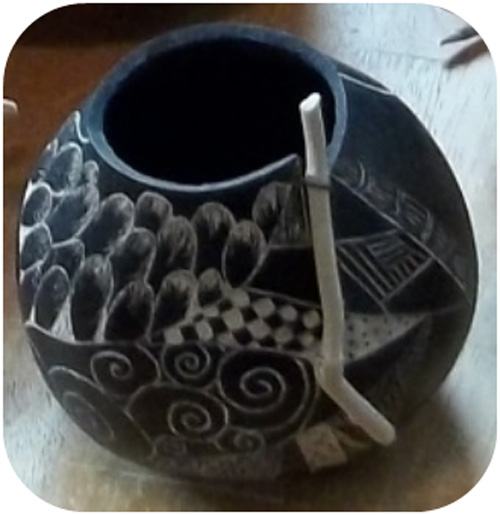 Are you looking for a way to enhance your gourd or wooden bowls?  Come and learn how adding simple designs with pyrography will add value and appeal to the most basic bowl.  You will burn a sampler design inside a border on your bowl, learning while burning what the different tips can do.
The Instructor will provide a tutorial with pattern ideas.
Students will need to bring a prepared gourd bowl, or a turned wooden bowl.  Although you may not be able to complete all the burning during class time depending on the size of your bowl, you will go away with a tutorial which will help you finish on your own.  You may finish the inside of your bowl, but do not put a finish on the outside of the gourd.
Students need to bring any pyrography equipment they have.  Please let Barbara know in advance if you need to borrow equipment, so she can have enough equipment available.   bellcham@nexicom.net